News!
December 2001
Saturday, December 29, 2001
---
Skyclad live pix, review
Posted by: Matze @ 16:22 CET


I've put up a review and some photos from the great Skyclad Irish Pub Gig yesterday in Bielefeld - click here to read it.



Thursday, December 27, 2001
---
Martin Walkyier is writing a musical?
Posted by: Matze @ 11:02 CET


From Blabbermouth.net:

"Former SKYCLAD and current RETURN TO THE SABBAT frontman Martin Walkyier is reportedly busy writing a musical. No details have yet been divulged about the project, but more information is said to be due shortly. In other news, RETURN TO THE SABBAT are planning on embarking on UK/European tour sometime in 2002 to celebrate Walkyier's 15 years in the business. Several European festival appearances may take place as well. Although unconfirmed, a possibility exists that some of the upcoming gigs will be recorded for a double live CD, to be issued in late 2002 or early 2003."



Wednesday, December 26, 2001
---
Blind Guardian mp3 clips
Posted by: Matze @ 12:47 CET


Three 30-sec-mp3-samples from the new Blind Guardian album "A Night at the Opera" are available at the band's official homepage:

http://www.blind-guardian.com/index2.html



Tuesday, December 25, 2001
---
Second penny contest results and winners
Posted by: Stéphane @ 0:16 CET


The second penny contest is over.
here are the results :

Second penny contest results

I guess 4 of us will have a merry xmas (even if they have to wait a long time to get the cds at their home).

Cheers. Thanks for your participation.



Monday, December 24, 2001
---
Ho Ho Ho!
Posted by: Matze @ 7:50 CET


Merry Christmas!!!

:D



Sunday, December 23, 2001
---
Paul Bostaph leaves Slayer
Posted by: Matze @ 10:50 CET


"Original Slayer drummer, Dave Lombardo, is confirmed to "guest star" with the band for the next leg of their God Hates Us All U.S. tour, beginning January 24 in New Haven, Connecticut. Due to a chronic elbow injury, Paul Bostaph, Slayer drummer for the past several years, is leaving the band. Bostaph feels he is unable to continue performing to his fullest potential and greatest intensity. [...] Slayer is on a worldwide hunt for a permanent replacement and details will follow shortly."

For more info hop over to http://www.slayer.net/



Saturday, December 22, 2001
---
Morten Veland / Sirenia
Posted by: Matze @ 18:48 CET


"Former TRISTANIA member Morten Veland (guitars, vocals) returns to NAPALM RECS with his new band SIRENIA. Morten will enter Sound Suite Studio at the end of this month. The album is scheduled to be released in the spring of 2002 and Morten has promised the perfect follow-up to his final work with TRISTANIA, Beyond the Veil."

Source: http://www.napalmrecords.com




Review: Concert of the Year- 2001
Posted by: Pax @ 10:03 CET


Added a review of the best concert of 2001, Moonspell and Lacuna Coil, live in Los Angeles! Click here to read all about it. I'll be adding photos in a day or two.

Y'know, about a month ago, Stephane posted the tour info on here, and jokingly said, "I bet our lad Ed will have a merry christmas!" Well laddie, I had a very merry Solstice, thanks to both Moonspell and Lacuna Coil!



Wednesday, December 19, 2001
---
Band of the month: Waylander
Posted by: Matze @ 22:18 CET


This time it's irish "celtic metal" act Waylander - thanks to Skycsil for posting the article.

Read it here!



Monday, December 17, 2001
---
Jelly Jam mp3s
Posted by: Matze @ 8:03 CET


Three samples of the Jelly Jam debut album (now scheduled for release in February or March) are available at TyTabor.net.



Sunday, December 16, 2001
---
New Editorial and Review
Posted by: Pax @ 23:58 CET


Hey all,
I know I've done a lot of essays and editorials lately, but I added another one anyways. Its a tribute to Chuck Schuldiner. My way of dealing with the loss, a Death in our family.

Second, I've added a review of Hagalaz Runedance's Volven in the review sections. Its a bit flowery, as I also used it for an Writing Class, but it does speak to the categories of heart and soul.

Anyways, I've got my black armband on, and I'm working on a song in memory of Chuck. So all I can add, is keep the flame of Metal, and the flame of True Music alive. Never let it die.

Yours,
Ed "Pax Eternum" Graham




Death : Chuck Shuldiner
Posted by: Stéphane @ 12:07 CET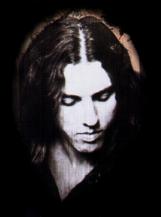 Chuck Schuldiner of Death died on December 13th after a long battle against cancer.

Here's the memorial page : Chuck memorial page

edit maggy :
He will be missed by the Heavy Metal community.. guess the Grim Reaper takes the worthy people lately...



Saturday, December 15, 2001
---
New dreaditorial
Posted by: Stéphane @ 22:53 CET


Hi, i've just posted a new dreaditorial. Read it if you dare.


"Total recall - a tale by Cassandra"




Festival Stuff
Posted by: Matze @ 9:16 CET


Bands confirmed for...

Bang-Your-Head Open Air:
GAMMA RAY, MAGNUM, SYMPHONY X, TITAN FORCE, RHAPSODY, NIGHTWISH, NEVERMORE, OVERKILL, JAG PANZER, IRON SAVIOR, TANKARD, PARADOX, VANDEN PLAS, RAWHEAD REXX, RIVAL, SA ADAMS

RockHarz Open Air:
OVERKILL, BLAZE

Summer Breeze Festival:
AFTER FOREVER, AGATHODAIMON, AMON AMARTH, APOPHIS, ASHES YOU LEAVE, AXXIS, BELPHEGOR, BLOODFLOWERZ, BRAINSTORM, BURDEN OF GRIEF, CRIMINAL, CROSSCUT, CRYSTAL BALL, DARE, DARK AT DAWN, DIE APOKALYPTISCHEN REITER, DIE SCHINDER, DISBELIEF, DRY ROT, EDGUY, EKTOMORF, EMIL BULLS, END OF GREEN, ETERNAL TEARS OF SORROW, FLOWING TEARS, GURD, GURKKHAS, HYPOCRISY, MR. VADER, MY DARKEST HATE, MYSTIC CIRCLE, NIGHT IN GALES, NIGHTWISH, PAIN, RED AIM, STAMPIN' GROUND, SUIDAKRA, THE BLUE SEASON, THE NERVES, THORN.ELEVEN, UNDERTOW, VADER, WITHIN TEMPTATION

Wacken Open Air:
AMON AMARTH, BLAZE, BLIND GUARDIAN, CHILDREN OF BODOM, DESTRUCTION, DIMPLE MINDS, DORO, EDGUY, FALCONER, GREEN CARNATION, HOLLENTHON, HYPOCRISY, IN EXTREMO, J.B.O, KREATOR, MACABRE, NECROPHOBIC, ONKEL TOM, PRETTY MAIDS, PUNGENT STENCH, RAVEN, U.D.O., WIZARD, WOLF



Wednesday, December 12, 2001
---
Wave gothic treffen 2002 bands
Posted by: Stéphane @ 21:51 CET


The highlits would be for me : Ataraxia, Tristania, Subway to Sally, In extremo, Moonspell, the Merlons, Schandmaul.

Here's the band list :
SOFT CELL - DIAMANDA GALAS - IN EXTREMO - MOONSPELL - SILKE BISCHOFF (erstes Konzert seit 1998) - SUBWAY TO SALLY- Accessory - Ataraxia - Breath of Life - Camerata Sforzesca - Cenobita - Cyborg Attack - Daddy long legs - Dance or Die - Darkwood - Dynamic Masters - Davantage - Diva Destruction - Eve of Destiny - Fading Colors - Feindflug - Felsenreich - Finisteria - Forseti - Frown - Funkervogt - Helix - House of Usher - Illuminate - Impressions of Winter - Kirlian Camera - Kiss the blade - Legendary Pink Dots - Madrigal - Mainpoint - Merlons - Mila Mar - Naevus - Neon Judgement - Neuroticfish - Niowt - O. Quam. Tristis - Obsc(y)re - Phantasmagoria - Pilori - Pronoian made - S.p.o.c.k. - Samsas Traum - Schandmaul - Schandtat Mensch - Scream Silence - Schock - Seij minus aç - Siechtum (erstmalig live - Nebenprojekt Thomas Rainer/L´âme Imortelle) - Somnambul - Sonar - Sonne Hagal - Stalingrad (exclusiv Konzert) - Star Industry - Stendal Blast - Technoir - This vale of tears - The Cascades - The Escape - The last days of Jesus - Tristania - Unheilig - Whispers in the Shadow - Westwerk - Winterkälte - XPQ-21 .




Tuesday, December 11, 2001
---
Fiddler's Green "Snippet Mix"
Posted by: Matze @ 8:31 CET


Fiddler's Green have released an mp3 with extracts from their upcoming album "Folk Raider".

Download: www.fiddlers.de/fidd_mf.htm




Motley Crue - "New Tattoo" review
Posted by: Max @ 4:08 CET


There's a review for Motley Crue's "New Tattoo" in the "Reviews" section.
Love ye all!
Max



Sunday, December 9, 2001
---
Live humppa karaoke!!!
Posted by: Stéphane @ 9:41 CET


Riemufestivaali in Helsinki Finland January 2002 includes an awesome humppakaraoke by Eläkeläiset. Come along and become a star with the greatest band of them all!. More details soon here at humppa.com.




Dying Tears new singers
Posted by: Stéphane @ 9:29 CET


Dying Tears, the promising parisian gothic doom metal band with cello has faced a change of line-up.
Former male and female singers Rose and Yohann have just been replaced by Jenni Signorio and Stephane Montiel.




Dead can dance box set
Posted by: Stéphane @ 9:23 CET


Seen on Dead can dance page :


Dead Can Dance Box Set
"We are in the process of putting together a special limited edition box set of Dead Can Dance. The box set will contain a 3 CD audio compilation of selected album tracks as well as rarities and previously unreleased tracks. It will also contain a DVD of "Toward The Within", music videos and television performances culled from the group's 18 years of creativity. It will be released November 6th and will be available in the US on Rhino Records".


Dead Can Dance Box Set Track Listing

Disc 1

Frontier (Demo)
Labour Of Love (Peel Session)
Ocean (Peel Session)
Orion (Peel Session)
Threshold (Peel Session)
Carnival Of light (Peel Session)
In Power We Entrust The Love Advocated
De Profundis (Out Of The Depths Of Sorrow)
Avatar
Enigma Of The Absolute
Summoning Of The Muse
Anywhere Out Of The World
Windfall
Cantara
In The Kingdom Of The Blind The One-Eyed Are Kings
Bird
The Protagonist

Disc 2

Severance
The Host Of Seraphim
Song Of Sophia
The Arrival And The Reunion
Black Sun
The Promised Womb
Saltarello
The Song Of The Sibyl
Spirit
Yulunga
The Ubiquitous Mr. Lovegrove
Sloth (KCRW radio)
Bylar (Live On Echoes)
The Carnival Is Over
The Spider's Stratagem
The Wind That Shakes The Barley (KCRW Radio)
How Fortunate The Man With None

Disc 3

I Can See Now
American Dreaming
Tristan
Sanvean
Rakim
Gloridean
Don't Fade Away
Nierika
Song Of The Nile
Sambatiki
Indus
The Snake And The Moon (Edit)
The Lotus Eaters (1998 Session) Disc 4
Toward The Within DVD

Additional Performances:
The Carnival Is Over
The Host Of Seraphim
Yulunga (Spirit Dance)
Frontier
The Protagonist

So if any of you want to give me a good Xmas gift, here it is ... :D)




Blind Guardian's new album : tracklist
Posted by: Stéphane @ 9:14 CET


Here's the tracklist of 'a night at the opera' from Blind Guardian :

1. Precious Jerusalem,
2. Battlefield,
3. Under The Ice,
4. Sadly Sings Destiny,
5. The Maiden And The Minstrel Knight,
6. Wait For An Answer,
7. The Soulforged,
8. Age Of False Innocence,
9. Punishment Divine,
10. And Then There Was Silence




Saturday, December 8, 2001
---
Finntroll (related) news
Posted by: Matze @ 11:37 CET


The Finntroll Rivfader DEMO 1998 is online. You can download the whole thing here.

Furthermore, Jonne Järvelä's band Shaman will release their new CD "SHAMÀNIAC" on 2nd January. Jonne appeared as guest vocalist on Finntroll's "Jaktens Tid" album and supported the band during their gigs in 00/01 by doing the Joik-singing and playing acoustic guitar and shaman drums.



Friday, December 7, 2001
---
Lefay News
Posted by: Matze @ 14:43 CET


Woohooo, Lefay are back from the dead! Check out their new official homepage at http://www.lefay.org.




New Release from Darkwell in February
Posted by: Pax @ 5:23 CET


Taken from Darkwell's site www.darkwell.org:

In the beginning of December DARKWELL will start with the recordings to their new release. At the moment the working title is "Conflict of Interest" which will be also the title for their new MCD. On this MCD there will be 4 brand-new titles, a cover tune and one live track. If everything works out like planned, the MCD will also include CD-ROM Bonus Material, 2 live videos and general information and goodies (desktop backgrounds, etc.). The recordings should be finished with the end of this year and a release in Feb/March 2002 seems to be possible.


Further to mention, the band has confirmed the new Line up.
New:
Matthias Nussbaum (Guitar)
Raphael Lepuschitz (Keyboards)
Like before:
Roland Wurzer (Bass)
Alexandra Pittracher (Vocals)
Moritz Neuner (Drums)

Darkwell is a great new gothic metal band from Austria, with a sultry songstress in Alexandra Pittracher. No growled vocals, no choirs, no cheap Tristania ripoffs, just good music. Their 2000 release, Suspiria, was absolutely killer. Be sure to check them out on www.mp3.com



Wednesday, December 5, 2001
---
Skyclad: Christmas / New Year shows
Posted by: Matze @ 8:01 CET


Skyclad will play the following gigs in December/January:

27.12.2001 Aschaffenburg Colos-Saal *
28.12.2001 Bielefeld Irish Pub
29.12.2001 Zwickau Alarm *
30.12.2001 Hamburg Logo *
31.12.2001 Hannover Faust
02.01.2002 B - Verviers Spirit of 66
03.01.2002 Darmstadt An Sibin
04.01.2002 Esslingen Irish Pub
05.01.2002 Pforzheim Irish Pub

Source: A.S.S. concerts




Interview with Anders H. Hidle of Tristania added
Posted by: Pax @ 2:12 CET


I've just added an email interview with Anders of Tristania. Very nice, very in depth. What a guy!
Click here to read more.



Tuesday, December 4, 2001
---
Nokturnal Mortum dumps Nuclear Blast?!
Posted by: Max @ 10:15 CET


Seems like the re-release of Nokturnal Mortum's "Lunar Poetry" has become a fatal mistake in the relationship between the band and their recording label - Nuclear Blast. According to the sources close to the band, Knjaz Varggoth (vocal/guitars) clamed the release of "Lunar Poetry" to be "illegal" and blamed the recording company for changing the original cover artwork.
I think, we might as well remind you that "Lunar Poetry" was originally released in 1996 only in MC format and was re-released on CD earlier this year with different cover art and a bonus track.
Hopefully, Ukrainian Black Metal gods has some other labels in perspective, so we won't have to wait for too long for their next creation.





Extreme Music for Extreme People Tour Review
Posted by: Matze @ 9:54 CET


Just got the board working, so my review is now ready for viewing, Exhumed, Zyklon, Soilent Green, Deicide, and Morbid Angel, complete with photos of Ed hanging with Glen Benton, Jaren Anderson, Trym, and Samoth. Woohoo! Just go to the message board for all the madness.

Edit Matze: This has been posted by Pax, don't know what went wrong with NewsPro...



Monday, December 3, 2001
---
Apollyon Sun news
Posted by: Matze @ 18:20 CET


The official Apollyon Sun website has been updated with an A.S. status report for fall/winter 01. Here's a snip:

"The material so far completed ranges from more rock-oriented and organic than 2000's "Sub" album to rather adventurous and daring ideas. Among the songs in the works are: "Solitary Lodge", "Nova", "Deep Inside", All Gone Dead", "The Beautiful End", "Mouthful of Lies", "Apple on a Tree", "Winter", "Smallwood Red Cheek", "Lagrange Point", "Superbug", and a number others.

Some of the material written this year for the new AS album will still undergo significant development, other songs have been recorded to final album standards. All material is being circulated on a variety of work-in-progress CDs within the AS camp and for AS industry associates, and we have decided to make some of this material available via the website. See the "website" section for further details.

Erol Unala and Tom Gabriel Fischer are also currently involved with extensive preparation work for another musical project, which, if it will bear fruit, will be of major significance. If given a go-ahead, news of this project are expected sometime during 2002."

Follow this link to read more.




Jelly Jam Delayed
Posted by: Matze @ 8:52 CET


According to Kramer's Korner, Jelly Jam's debut album has been delayed until March 18th, 2002.




Emperor - "Prometheus..." review
Posted by: Max @ 8:42 CET


There's my PERSONAL OPINION on Emperor's new album "Prometheus - The Discipline Of Fire And Demise" in "Reviews" section.
Love ye all! :)
Max




Judas Priest Reunion Rumors
Posted by: Pax @ 8:01 CET


Now this is just a rumor, but I read somewhere that Rob Halford is planning on attending the Judas Priest concert in Los Angeles this January. He has refused to see his former band with Ripper Owens at the held since he left. The word is that he has been talking with his old band mates about working together on a new cd, since both Demolition and Resurrection have sold miserably, (I think about 30,000 copies for Demolition is that latest I've heard) and the publicity would be tremendous if they reunited after so long.

I don't know when tickets will be available, as it was postponed from the original date of September 15th (if you don't know why it was postponed, get a friggin brain!) but I plan to be there. Maybe I can score a backstage pass as a reporter for PennyDreadful!




New Manowar Album News
Posted by: Pax @ 7:55 CET


Taken from the very excellent Official Brazillian Manowar site:

After 6 years the wait is finally over. The new Manowar studio album has been scheduled for release at May 27th, 2002. Prior to this the band will release a single at April 15th 2002, bearing the illustrious title: Warriors of the World (United). This single also contains previously unheard and unseen bonus footage.

For me, this means a single right before I dive into my spring finals. Could anything be a better preparation for insane final exams then the pounding hammer of Scott, the intense fretplay of Karl, the majestic singing of Eric, and the incediary bass work of Joey? Actually, I'll probably spend all my time listening to it instead of studying. Ah well, its worth it.



Saturday, December 1, 2001
---
Penny without ads!!!
Posted by: Stéphane @ 14:00 CET


Matze and I have paid the 30 dollar contribution to make our boards free of ads for a test.
Hope you enjoy.
So i've put an important poll on that matter.
Tell me your opinion.



Be our reporter!

Submit News!
You've discovered some interesting news? Cool...
send it in! :)
Message Board
All our reviews are in our Message Board (the core of our webzine) and these reviews (albums, gigs, and so on...) are made by YOU!
Penny Dreadful Radio
Wanna suggest bands for our online radio? Click here!
Chat Room
In our Chat room you can meet us every tuesday night!